To find the best NY app for you, we've put together the ultimate guide to betting apps in New York. And you also can check out NY promo codes.
All New York Online Sports Betting Apps Now
New York sports betting just had its first birthday. Let's take a look at a selection of the best New York sports betting apps – and at some of the reasons why betting on mobile devices is so popular with fans.
Ranking NY Betting Apps March 2023
Here you'll find the highlights for the best New York mobile sports betting apps and their top features.
Best Navigation
Since launch, the Caesars New York app has become a byword for quality. Not surprisingly, its mobile offering features one of the very best US sports betting apps. User experience is key when it comes to New York mobile sportsbooks. You want to be able to navigate between the sports and betting markets you most want to visit and play. The Caesars NY betting app scores extremely highly in this respect, with visitors delighted by its ability to find the odds they want, and to bet on them instantly.
Its sign-up offer to welcome new customers is up to $1,250 in bet credits, plus 1,000 rewards credits and 1,000 tier credits. The offer is only available if you deposit a minimum of $50 using the promo code NYBETSFULL.
For more info, check out our expert Caesars New York Sportsbook App review today.
Best Live Betting
BetMGM New York app has been shrewd in establishing its presence as one of the biggest names in sports gambling. The emerging sportsbook's use of film star Jamie Foxx to promote its app has bolstered the high profile of its mobile sports betting offering.
The app delivers strongly in several arenas. There's a wide range of sports available and an equally broad selection of markets. The navigation is as quick and simple as you would like on a mobile device, and comes with several payment options. BetMGM boasts innovative live-streaming. This is a great option offered by the best sports betting sites, which means you can watch the outcome of your wager as it unfolds.
With the additional perk of being able to cash out on many of your bets on major sports, BetMGM NY app offers a futuristic and exciting mobile experience.
For more info, check out our expert BetMGM NY App review today.
Visit BetMGM.com for T&Cs. Must be 21+ and physically present in NY only. New Customer Offer. All promotions are subject to qualification and eligibility requirements. Rewards issued as non-withdrawable bonus bets. Bonus bets expire in 7 days from issuance. Please gamble responsibly. Gambling Problem? Call (877-8-HOPENY) or text HOPENY (467369).
Best For New Bettors
Since the US Supreme Court effectively legalized mobile sports betting in 2018 by striking down the Professional and Amateur Sports Protection Act, DraftKings New York sports betting app has moved fast. DraftKings NY sports betting app has been honed over those years.
The result is that New Yorkers can anticipate using one of the best New York sports betting apps available. Experienced bettors will like the vast choice of sports and markets offered. Newcomers to sports gambling, meanwhile, will be welcomed with approachable and easy navigation.
DraftKings NY App has established itself as a major player on the American sports stage through partnerships with the NHL and MLB. DraftKings New York sports betting app scores very highly with App Store reviewers and was the first to be available for download directly from the Google Play store for Android users. Its welcome offer for new customers "Bet $5, Get $200 In Free Bets Instantly."
For more info, check out our expert DraftKings New York Sportsbook App review today.
Best User Experience
FanDuel New York sports betting app has made itself known as a leading name in legal betting apps. The sportsbook combined its foothold in the DFS market with a willingness to embrace sportsbook improvement. Big apple sports bettors can now look forward to an outstanding experience with what is arguably the best sports betting app available in the US today.
This is a New York betting app with a generous range of sports and competitive odds. There are tempting promotions and offers, all wrapped up in an experience created with the mobile sports bettor at heart. With a clean, clear interface and a wide range of payment options, mobile users can't go wrong signing up with FanDuel NY betting app. The book's welcome offer is a No Sweat First Bet up to $3,000
For more info, check out our expert FanDuel Sportsbook App NY review today.
Best Bet Creator Program
Luxury resort brand Wynn Resorts NY betting app launched its betting arm in November 2020, but its progress since then has caught industry attention. WynnBET's New York sports betting app is a solid choice with a classy interface and a generous offering of odds and markets.
Where it has really stepped up, however, is in the addition of its Wynn Rewards program to its online sports betting platforms. As well as the standard betting-related bonuses such as free bets and odds boosts, players can qualify for rewards such as meals, hotel stays and in-person experiences. The sign-up offer for WynnBET NY sports betting app is bet $20, get $100 using promo code XBETNY.
For more info, check out our expert WynnBET New York Sportsbook App review today.
Best Welcome Bonus
PointsBet New York betting app is a long way from its Australian roots but has retained its quality in the US. The Aussie outfit has refined its sports betting app to the desirable point where it belongs among the elite names offering legal sports betting services.
PointsBet NY sports betting app delivers a great range of sports, the user interface is excellent and it has carved out a notable niche with its PointsBetting system. This means you can win more, depending on how close the final result is to the line you bet on.
It scores very highly with its welcome bonus, too. Risk-free bets are one of the most attractive weapons in the marketing armory as it attempts to lure new customers. Many operators offer risk-free bets but few can rival PointsBet New York app, where users can get five wagers of up to $100 dollars each upon sign-up.
For more info, check out our expert PointsBet New York App review today.
Visit BetMGM.com for T&Cs. Must be 21+ and physically present in NY only. New Customer Offer. All promotions are subject to qualification and eligibility requirements. Rewards issued as non-withdrawable bonus bets. Bonus bets expire in 7 days from issuance. Please gamble responsibly. Gambling Problem? Call (877-8-HOPENY) or text HOPENY (467369).
Best For Odds Boosts
BetRivers' mobile betting app is bright and busy, while being extremely easy to use. There are a host of sports offered, as well as a choice of payment options and a high level of safety and security.
BetRivers New York mobile sports app is also known for the generosity and volume of its bonuses. The welcome offer is a 2nd Chance Free Bet Up To $100 using promo code SPORTS. It's also a great place to go for bet boosts. Known as house specials, these are regular enhancements to the price of a particular team or outcome that deliver extra value to the bettor. In many instances, you can choose which bet you want to boost - and the selection is impressive.
For more info, check out our expert BetRivers NY App review today.
Ranking Legal NY Sports Betting Apps By Leagues
It's worth saying that all the operators offering online betting apps in New York are at, or very near, the top of their game. You are unlikely to go very far wrong if you wager on your favorite sport or teams with the mobile betting apps available from all the online sportsbooks in the Empire State. However, it's also fair to say that even in this esteemed company, there are names that stand out when it comes to particular sports.
Best For Football: FanDuel

One of the factors that gives FanDuel an edge in this ultra-competitive field is that it started life as an app. Its lifelong mobile-first philosophy has cemented its place at the cutting edge of mobile sportsbook app design. As a result, when it comes to betting on the big football game, you can access and consume a lot of information very quickly - and, crucially, place your wager swiftly too. Pages load fast and you can move between them at speed. That's ideal when betting on the NFL and - where it's allowed - college football.

Best For Basketball: FanDuel

Any hoops fan can tell you that this is a sport that moves fast. If you want to place a bet on one of the most popular sports in the US, you need an app that moves fast too. With FanDuel, the pages load quickly - as they really need to on all gambling apps - and the interface is fast too when the time comes to place bets. This is particularly the case with live betting on mobile devices. Speed is of the essence in basketball, and FanDuel is one of the fastest sports gambling apps you can use to keep up with the pace.

Best For Baseball: FanDuel

Baseball is a sport that generates a dizzying array of facts and statistics - the type of information you need at your fingertips to inform your choice on a mobile sports betting app. The speed and user-friendliness of FanDuel's online sports betting app ensure that it scores extremely highly when it comes to betting on baseball. With an expansive selection of odds, and the ability to place your bet on any betting market so quickly that you hardly need to look away from the action, FanDuel hits a home run every time.

Best For Hockey: BetMGM

You could argue that BetMGM has an in-built advantage here, thanks to the partnership deal it signed with the NHL to gain access to its "puck and player" stats. What is not in dispute is that the operator puts that access to good use. BetMGM offers a vast array of hockey markets, clever prop bets and attractive odds - with regular price boosts to add to your potential winnings. It also offers futures, and a range of markets on matches in other powerhouses of the game such as Russia, Sweden and Finland.
Rating NY Sports Betting Apps for March 2023
Generally solid ratings across the board, and expect apps with lower scores to be motivated to improve.
Ratings subject to change. Last updated 3/24/2023.


New York Online Sports Betting Apps Features
These are the top items that you should check out to make sure that your apps excel in the areas that are most important to you.
Speed
Speed is everything when it comes to betting with a mobile app. It is absolutely essential that you are able to pass swiftly from page to page as you seek out the bet you want to place - and that you can get your wager on as quickly as possible. It is incredibly frustrating when a mobile app takes a long time to load each page, especially if you are betting live and want to place bets instantly.
That's why there has been such a significant investment in mobile sportsbook apps. Building your New York app from the ground up, rather than expecting players simply to use a New York mobile version of the website, can shave precious seconds off the time it takes to source and place a wager.
Sign-Up Offers
The competition for custom between online sports betting sites is legendarily intense. They want to entice new clients to join them - and what could make their proposition more tempting than a juicy welcome offer?
In return for signing up for an account, new arrivals will receive New York betting promo codes which activate generous bonuses such as a risk-free bets. This is a great way of beginning your relationship with a sports betting site. If your first bet collects, you get a return; if it doesn't, you get your stake credited to your account again. As an alternative to a risk-free bet, online sportsbooks might offer a deposit boost or free bets.
Promotions
Once a customer is on board, online betting sites put the hours in to ensure they stay there. Loyalty can be encouraged in a variety of ways, and existing customers of sports betting apps have every right to expect a reasonably regular diet of free bets, odds boosts and other enhancements to their experience.
Many operators run other loyalty schemes such as VIP clubs and reward programs that encourage clients to feel special. In return for a certain level of investment, you could receive further prizes and non-betting gifts to ensure you feel noticed and valued.
Selection Of Sports
Naturally, there are certain sports that all US sports betting apps should be expected to carry - namely football, basketball, baseball and hockey. However, not all visitors to sportsbook apps want to bet solely on American sports.
The best online sportsbook apps carry betting markets from a wide variety of sports, leagues and events across the globe. Many also offer access to casino games and daily fantasy sports to ensure that the broadest possible selection of visitors to their mobile app will find plenty to entertain them.
Visit BetMGM.com for T&Cs. Must be 21+ and physically present in NY only. New Customer Offer. All promotions are subject to qualification and eligibility requirements. Rewards issued as non-withdrawable bonus bets. Bonus bets expire in 7 days from issuance. Please gamble responsibly. Gambling Problem? Call (877-8-HOPENY) or text HOPENY (467369).
Competitive Betting Lines
One of the ways in which an online betting site can differentiate its offering and stand out from the crowd is through the odds it offers on particular events. Shrewd bettors will shop around and work out which are the best online betting apps for value when it comes to the odds.
Operators all have expert odds compilers who decide how to price up a particular event. If a bookmaker is able to offer that precious extra sliver of value on a particular sport on a regular basis, it will become the mobile app of choice for many appreciative customers.
Interface Of New York Betting App
Closely related to speed when it comes to mobile betting is the extent to which the interface of an app is welcoming and user-friendly. The importance of being able to navigate quickly and easily while mobile betting simply cannot be overstated.
Considerable research goes into devising an interface that works on mobiles to make the betting experience as smooth and enjoyable as possible. There's a degree of personal taste at work here, but ultimately the ability to place bets easily is high on the list of priorities for bettors.
Variety Of NY Apps Payment Options
Ultimately, sports betting is a financial transaction. And the best sportsbook apps offer as many options as possible to ensure that their users can deposit funds, place bets and, crucially, withdraw their money as quickly and painlessly as possible.
It's important, when choosing the best sports betting site for you, that you will be able to enjoy online betting using a banking method that suits you, whether that means credit card, debit card, mobile wallet or an e-wallet.
New York Sportsbook Apps Security and Support
Peace of mind should be taken as read when you are enjoying a sports bet. It's stressful enough worrying whether or not your selection is going to win; the last thing you need is any concern that your money and data are not as secure as they need to be.
Similarly, when using any mobile sports betting app, it's immensely reassuring to know there is a support system in place to answer any queries you may have, or to solve any issues that arise.
We believe it's essential that sportsbook apps offer reassurance that your experience will be as enjoyable as it can be by having the most robust support operations possible.
Support
We're likely to hit a snag at some point, and easily available help can minimize frustrations.
Security
Look for these features to keep your money and your identity – and your credit score – safe.
Sports Betting Apps Vs. Online Sportsbooks
The advent of digital technology has changed the sports betting landscape completely. The days when retail sports betting was your only option when you wanted to place a wager have gone forever.
In recent years, and especially since the repeal of PASPA in 2018 effectively legalized sports betting, online sportsbooks have been matched and superseded by the enormous appeal and potential of mobile sports betting.
The ability to access any sports betting market at any time and, crucially, in any place, has made the act of placing a sports bet quicker and more convenient than ever before. You can be at home, at the stadium, in the office or on a train - betting apps mean you can wager through your mobile device rather than be sat in front of your desktop.
The only stipulation imposed by sports betting legislation is that you must be physically located in a state where online betting is allowed. Virtually all mobile sportsbooks carry geolocation technology that can check instantly whether or not you are in one of the legal sports betting states.
How to Use a NY Mobile Sportsbook App
Carrying a mobile device is now second nature to huge numbers of people in New York and across the US and the world. As a result, the ability to enjoy sports betting through a mobile phone or tablet is an activity that people in licensed territories are increasingly coming to expect.
Getting started on a mobile betting app is slightly different from signing up for a traditional betting website. The experience should be much more streamlined, and the user interface should lend itself effortlessly to the small screen in your pocket.
Virtually all of the best sports betting sites now have dedicated apps for any mobile platform - and they have spent considerable time and money on ensuring that they easy and enjoyable to use.
Sports Betting With iOS Betting Apps
Signing up for, and betting through, an iOS NY mobile sports betting app is extremely straightforward. Many New York sportsbook apps allow you to use TouchID or even FaceID. Please remember, though, that you must be located within a state where online sports betting is allowed. If you are registered for a New York betting app but try to sign in from an area where it is still illegal, you will not be able to bet.
Sports Betting With Android Betting Apps
Betting on Android New york betting apps is as simple as it is on an iPhone. Many of the apps available through the Google Play store are extremely similar to their iOS equivalent. The requirement to be in a state that has legalized sports betting through your mobile also applies to Android betting apps. Be sure you follow the sign-in process correctly and have deposited funds in your account before trying to place bets.
Why Move To New York Sportsbook Apps
Convenience

Convenience and ease are the two words that spring most irresistibly to mind when assessing the appeal of mobile sports betting apps. Instead of having to go to retail premises, or to launch a website on your home desktop, all that you need is in your pocket and can be accessed instantly and simply. The amazing convenience of being able to research and place your bet - and watch it win or lose - on a mobile device has revolutionized sports betting.

Sports Betting From Anywhere

Gone are the days when you had to plan in advance when you wanted to have a wager on the big game or an important race. Now you can access a betting app wherever you are - in a bar, at work, on the train... or even at the event itself. As long as you have a signal, an account and a location where online betting is allowed, there are no geographical limits to your enjoyment of a wager on your favorite sport.

Exclusive Mobile App Bonuses

The global betting industry has embraced the potential delivered by mobile technology and developed user-friendly mobile apps that make betting quick and easy. One of the ways in which sportsbooks encourage players to use these fantastic new platforms is with bonuses and promotions available only through mobiles. These can include sign-up bonuses such as risk free bets and special offers for existing customers such as free bets

Live Sports Streaming

As if it wasn't enough to be able to bet on your favorite sport through your mobile device, it is becoming increasingly possible to watch the action there too. Betting softwares are now able to deliver live streaming of sporting action for people who have staked money on the outcome - or even those who simply have a positive balance in their account. Check out the availability of live streaming with your chosen mobile sportsbook and any conditions that apply.

Mobile Wallet Account Funding

When you sign up for a mobile betting account, you want the process of depositing, moving and withdrawing funds to be streamlined and simple. The top sports betting apps tap into this desire by offering a host of options including credit and debit cards and e-wallets. However, mobile devices provide built-in wallets that can be used to fund your mobile betting activity. It's easy to set up the connection between your betting account and your mobile wallet, and you'll be able to keep track of your wagering activity as each transaction goes through.
Use New York Sports Betting Apps For Live Betting
In the not too distant past, once a sports event started, all betting activity on it ceased. However, along with advances in digital technology came the ability to update the odds on an event almost instantaneously.
Online sportsbooks were able, through the work of experienced traders or through sophisticated algorithms, to move their markets depending on the state of play on the pitch.
The inevitable result was the growth in live betting. An increasing proportion of wagers in the modern world are struck while the action is going on. This is a huge innovation for sports betting, because is enables bettors to enhance their involvement in, and enjoyment of, a big sports event.
The key factor to live betting is the speed of the interface concerned. Every second counts when you want to place a bet as quickly as possible; the last thing you need is a laborious process, with the danger that the chance to get your stake on goes before the bet is accepted.
This is where sports betting apps score incredibly highly against the previous generation of online wagering and, of course, in retail sports betting outlets. Live sports betting and mobile betting apps could have been made for each other.
Jumpstart Sports Betting With NY Online Betting Apps
The development of the sports betting scene in the US since it was effectively legalized in 2018 has been fascinating to watch. Increasing numbers of states have taken advantage of the new legal landscape to license sports betting within their borders.
As New York embraces online sports betting, we have researched thoroughly the options that will imminently be available to sports bettors in the Empire State.
We hope to be in a position to help you learn everything you could possibly want to know about betting on your favorite sports, teams and athletes through the first generation of mobile apps that are licensed to accept bets in New York.
Look out for our guides that explain how to get the most out of sports betting through a mobile app, with details on how to bet, money lines, parlay bets and much more.
New York Betting Apps FAQ
The quality of user experience offered by the sportsbooks with mobile apps is high across the board. Whichever sports betting app, or apps, is the best for you will be a matter of personal choice - but we feel confident in saying that whichever you select, your mobile betting experience will be fun.
Yes. All nine licensed sportsbooks in New York offer an app, both for Apple and Android devices. Operators who are able to offer sports bets online in New York, such as FanDuel, DraftKings and Caesars sportsbook, all have incredibly sophisticated apps that have been developed and refined through their years offering sports bets in other states across the US.
The main advantage of a sport betting app is that becomes makes it easier for users to bet on a sporting event. Rather than having to go in person to a retail location, or being tied to your desktop to access an online sportsbook, you can bet anywhere and at any time with your phone.
Yes. Each sports betting app has deposit and withdrawal options, including credit cards, debit cards and payment-processing cards such as Skrill and PayPal. New York licensed sports betting apps are heavily regulated to ensure your deposits are absolutely secure. They have bank-level security.
Contributors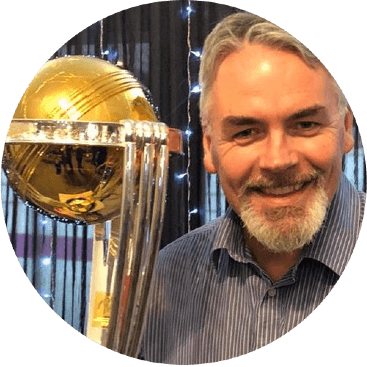 Martin Booth is a veteran when it comes to reviewing and rating the best sports betting sites legally available to Americans. New York betting apps are no different as Martin is considered one of the top experts when it comes to evaluating the which sportsbooks in New York are best and why.